"

A North Africa missile base is your first target. Beware of a man with a jackal head: your hearts will be weighed, and someone's never coming back.

"



 

— Mission Description 
Anubis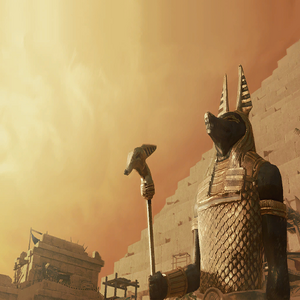 Location
Africa
Difficulty Levels
Easy, Normal, Pro

Anubis is a Survival Mission.
The mission is divided into three acts: Canyon, Dry Dock and Pyramid.
The Canyon requires the team to survive heavy fire from Blackwood soldiers located on elevated positions while dealing with multiple land mines.
The Dry Dock is the indoor facility where the team has to destroy a Blackwood submarine.
And finally, the Pyramid contains a factory that produces Blackwood's cyborgs. Players have to destroy the factory, and survive the final assault of the unleashed cyborg swarm.
Anubis Reward (Normal)
Item
Duration/Quantity
Chance (%)
First Reward

COLT Python Elite Anubis Skin
Permanent
10,3%

XP Booster +15%
1 Hour
29,9%

$ Booster +15%
1 Hour
29,9%

VP Booster +15%
1 Hour
29,9%
Second Reward

Blue Smoke Grenade
3 Units
1,8%

Blue Smoke Grenade
7 Units
0,9%

Land Mine
1 Unit
1,8%

Land Mine
2 Units
1,5%

M84
1 Day
2,7%

M84
3 Days
1,2%

250 Experience Points
-
71,4%

375 Experience Points
-
13,3%

500 Experience Points
-
2,7%

625 Experience Points
-
1,8%

850 Experience Points
-
0,9%
Anubis Reward (Pro)
Item
Duration/Quantity
Chance (%)
First Reward

AK-103 Anubis Skin
Permanent
12,7%

VEPR Anubis Skin
Permanent
12,7%

PP-19 Bizon Anubis Skin
Permanent
12,7%

ALPINE Anubis Skin
Permanent
12,7%

XP Booster +15%
2 Hours
16,4%

$ Booster +15%
2 Hours
16,4%

VP Booster +15%
2 Hours
16,4%
Second Reward

Blue Smoke Grenade
3 Units
1,8%

Blue Smoke Grenade
7 Units
0,9%

Land Mine
1 Unit
1,8%

Land Mine
2 Units
1,5%

M84
1 Day
2,7%

M84
3 Days
1,2%

300 Experience Points
-
71,4%

450 Experience Points
-
13,3%

600 Experience Points
-
2,7%

750 Experience Points
-
1,8%

1000 Experience Points
-
0,9%