Unlike most other online shooters, Warface offers a vast, and constantly updated PvE universe designed for coop gameplay.
Three new PvE missions become available daily, with one mission in each difficulty category.
Mission Difficulty
Edit
Easy Mission:Edit
Considered a training environment that the player can use to familiarize themselves with different types of opponents, mission maps, and squad tactics. Though fairly easy, these missions can be profitable in terms of money and experience earned. The easy mission updates significantly less frequently than higher difficulty ones and the map/mission can remain the same for up to 7 days. (confirmation needed)
Normal Mission:Edit
The first true test of a squad's abilities, and requires true teamwork and individual skills. These missions usually feature some special type of challenge such as a boss fight or a "safari objective". Naturally, these missions provide higher rewards than their Easy Mission counterparts. Hard missions are updated every 24 hours, providing players with new content every day.
Professional Mission:Edit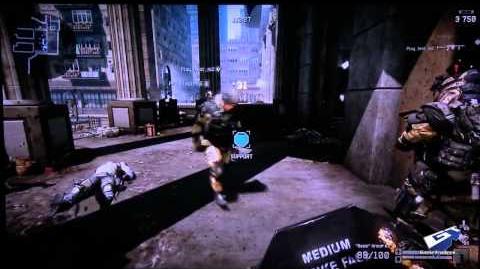 Incredibly difficult campaign that requires insane amounts of cooperation and skills, but provides twice the reward of the hard missions; however, according to developers in a PvE walkthrough video (see video at right), only about 7% of all squads actually complete the mission objectives at this difficulty setting. Just like Hard Missions, Professional Missions are updated every 24 hours.
Types of Missions
Edit
Traverse - found only in easy/training missions, the objective is simply to get the team from point A to point B eliminating along the way as many Blackwood troops as possible.  Often oposition will include at least one Juggernaut.
Seek and Destroy – The objective of this mission is to locate and destroy a "boss". Currently the game has two bosses available: KA-50 Gunship and Mech 2300.
Defense/Arena – This mission involves holding a position against waves of the advancing Blackwood forces.
Safari – The team is confined to a moving vehicle advancing through the hostile territory and under fire from all sides.
Escort – This mission involves escorting an armored unit through enemy territory to a given location.