Shieldbearer
Information
Health Points
150
Armor Points
150
Primary Weapon
Damage
Easy
Normal
Pro
4
5
7
Secondary Weapon
Damage
Easy
Normal
Pro
5-20
7-30
10-40
Rate of Fire
Easy
Normal
Pro
80
80
100
Accuracy
Easy
Normal
Pro
1
9
15
Shieldbearer
Information
Health Points
150
Armor Points
150
Primary Weapon
Damage
Easy
Normal
Pro
10
10
10
Secondary Weapon
Damage
Easy
Normal
Pro
12-40
12-40
12-40
Rate of Fire
Easy
Normal
Pro
50
50
50
Accuracy
Easy
Normal
Pro
20
20
20
Shieldbearer (The Great White)
Information
Health Points
150
Armor Points
150
Primary Weapon
Damage
Easy
Normal
Pro
4
4
4
Secondary Weapon
Damage
Easy
Normal
Pro
11-15
12-25
15-35
Rate of Fire
Easy
Normal
Pro
90
100
110
Accuracy
Easy
Normal
Pro
17
17
17
Shieldbearer (Volcano)
Information
Health Points
150
Armor Points
150
Primary Weapon
Damage
Easy
Normal
Pro
Hardcore
4
4
4
4
Secondary Weapon
Damage
Easy
Normal
Pro
Hardcore
11-15
12-25
15-35
20-45
Rate of Fire
Easy
Normal
Pro
Hardcore
90
100
110
120
Accuracy
Easy
Normal
Pro
Hardcore
17
17
17
17
Shieldbearer (Cold Peak)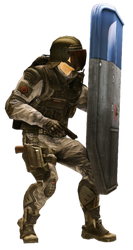 Information
Health Points
175
Armor Points
150
Primary Weapon

Damage
7
Secondary Weapon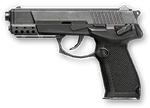 Damage
15-35
Rate of Fire
110
Accuracy
17




The Shieldbearer is an enemy.
The Shieldbearers are equipped with ballistic shields and because of that, they are nearly invulnerable to direct attacks. Their armament consists of a handgun which they use by leaning out from behind the shield and a baton which they use in close quarters after knocking opponent down with a shield bash.They rush toward close players, but if no one is near the shieldbearer they will then peak out their heads and fire using their pistols.
The best tactics against these soldiers is to flank them thus bypassing the shield. If a soldier is knocked down by a shieldbearer his teammates should attempt to rescue him as soon as possible as their baton attack is continuous and the victim will have no chance to retaliate on Normal and Pro difficulties. They will not incapacitate knocked-down players on Africa Co-Op missions and Survival Missions, with the exception of Cold Peak.
If forced into direct confrontation with one of these soldiers attempt to aim at the exposed body parts (shoulder, feet) which might slowdown or even stagger them allowing player to deliver a killing shot.
Medic's Defibrillator can be used to bypass the Shield defense and is possible to avoid being knocked down by standing back to a wall.
This enemy is called Heavy Soldier in Warface West.